Mr. Breeze Heating and Cooling
Yes, we service all brands. Yes, we can fix your system. And yes, we can be there today!
Mr. Breeze Heating and Cooling of Leavenworth, KS brings their 40 years of experience installing and repairing Furnaces, A/C, and heat pumps to your home – to fill your needs. We are licensed, insured, and bonded mechanical contractors with EPA-certified technicians trained in the best industry practices and using the best equipment. Our technicians fix your system right the first time – at a reasonable price.
All Repair Costs Are Quoted BEFORE The Repair Begins – So There Are No Surprises.
Mr. Breeze Heating & Cooling uses the most up-to-date tools and equipment to ensure accuracy in our diagnosis. We want our customers to feel completely secure and satisfied with our service!
Mr Breeze is now a Daikin Elite Dealer!
CONTACT US
today to customize your personal comfort with the Daikin FIT system!
Geothermal Repair and Installation
Mini-Split Repair & Installation
Replacement HVAC Systems
Condensers
Capacitors
Compressors
Whole Unit
Replacement
New
Installation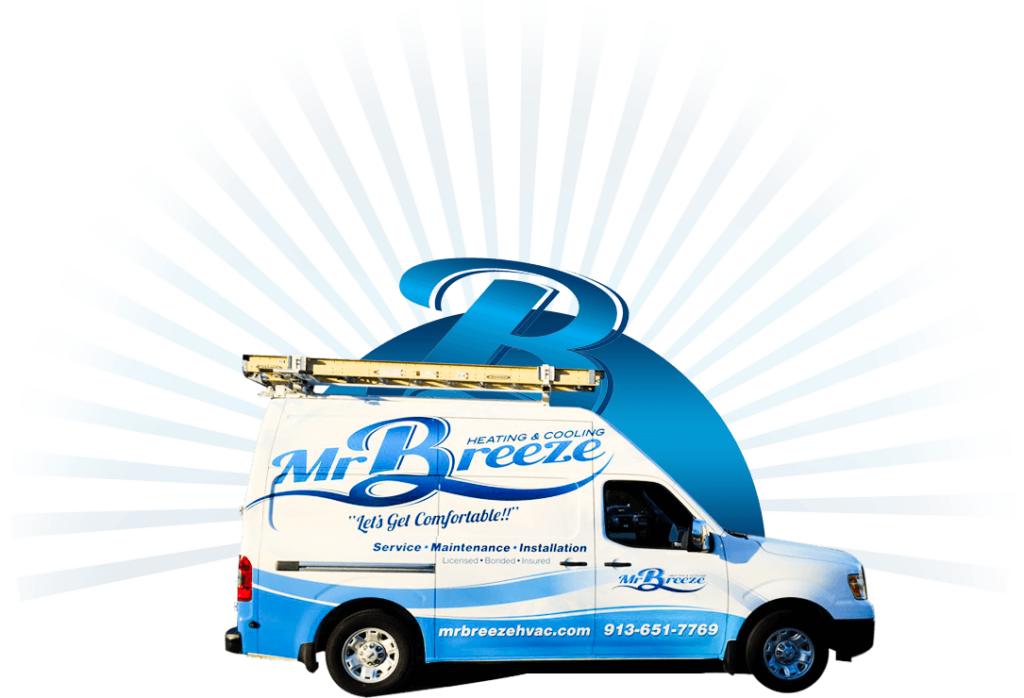 Coils
Fans
Circuit
Boards
Transformers
Relays
S F.
Living several states away is more than challenging, and the people at Mr. Breeze took excellent care of the A/C and furnace needs at my house in Kansas. Swift and friendly service, courteous, and they really went out of their way to accommodate my situation. I cannot give them a glowing enough recommendation and they will keep my business. I will call them without hesitation next time a problem arises. You just can't find service these days like the service I received from Mr. Breeze. Thanks again!
Lisa L.
I called at 8 am after a night without AC. The tech arrived within 30 minutes. Kylie was courteous professional and hard-working. She was done with the diagnosis and repair by 9 am!! I could not have been more pleased. Highly recommend this business.
Cassidy S.
Mr. Breeze came within an hour of my call and within that same hour, I had heat again! Our technician, Jacob, was knowledgeable and professional….he immediately went to work and with his keen diagnostic skills, he found the issue nearly immediately. From phone calls to fixes, I felt like I was treated like a friend. I would recommend Mr. Breeze in a heartbeat!
Alyse S.
Wonderful people, 5-star service, and would highly recommend it!
DeAnn T.
Mr. Breeze answered the phone with my midnight call with a human! And he was willing to come out and help! I called my usual company and after being told to wait an hour I never got any more response. So I am grateful that you were out there and could find out why my heater wasn't heating. Because it's a very cold night. 21° out. I think you are reasonably priced for an emergency visit. I am also grateful you had the part I needed. And I really love being warm for the night. As are the cats. Thank ...
Aurea C.
Amazing customer service, which is VERY hard to find these days. Honest folks. No hidden costs or surprise price hikes. Extremely knowledgeable. Straightforward about possible future problems, with no promises. I cannot thank my service pro enough for his time, patience, and help. I will continue to use and refer to this company.